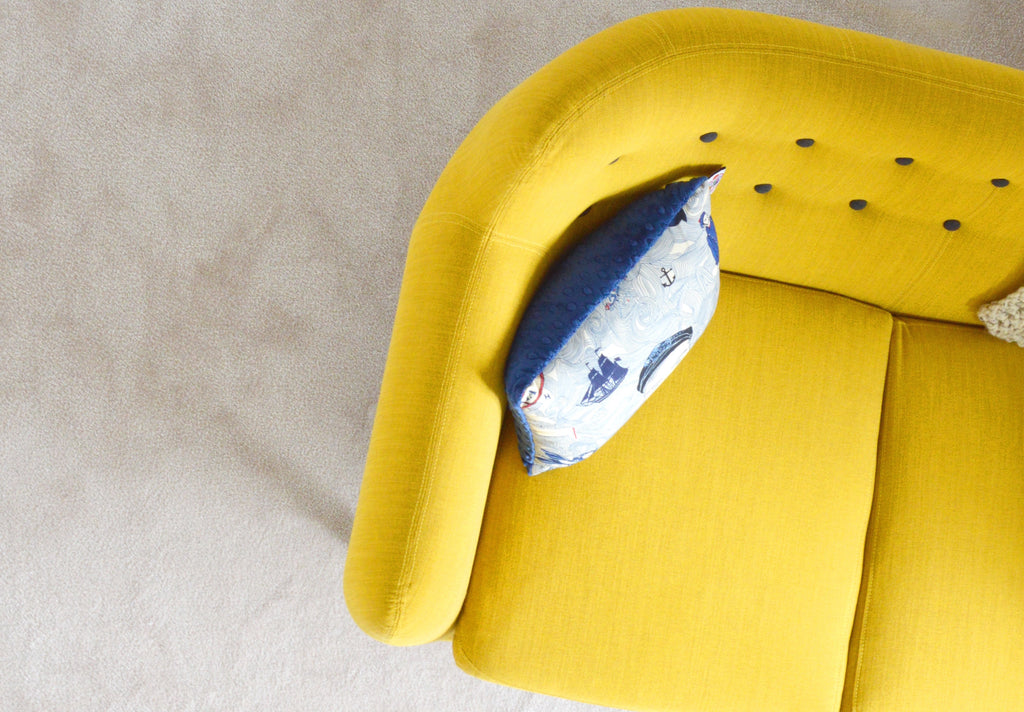 The final months of winter, January and February, tend to be the worse for the 'winter blues.' Many find their mood, appetite, and energy levels are at an all-time low, and let's be honest, we all feel a bit mopey! (Unfortunately, we don't get to hibernate as the bears do.)
But there are some things you can do to turn your home into a sanctuary and fight off the winter blues! And, it has something to do with using color.
A recent study by Taubmans and Liminal VR has confirmed that color can affect your mood! So, in this article we are going to be looking at the colors you should consider decorating with, as well as some color tips to transform your space and beat the winter blues in your home.
Colors To Beat the Winter Blues:
White/Creams
Clean, crisp whites and creams naturally promote sunlight, which can reduce depression and improve your mood. Plus, light tones make a room feel bright and spacious, reducing the likelihood you'll feel like a hermit during the shorter days.
Yellow/Oranges/Pinks
The Taubmans' study found shades of yellow made people feel happier, and deeper pinks or oranges made them feel more energetic. However, keep in mind that with intense colors like these, you can overdo it. So, use these colors sparingly and they'll still have a positive effect.
Greens
When it comes to sparking creativity and relaxation, gentle greens will do the trick! We especially love green in a home office to keep you motivated. Try a soft green accent wall, a soothing wall hanging or even a cozy area rug under your desk. 
Featured Product: 5' x 8' Rainbow Stripes Area Rug with Orange Blue Green Red Purple
Colors to Avoid During Winter
Charcoals/Blues
Matt pastels and charcoals are very much on trend; however, if you go overboard you could be promoting sadness! Additionally, greys and light blues, although lovely color schemes, can wreak havoc emotionally. Try to keep these colors limited to a feature wall or accessories that you can easily switch out with the season.
Black
This is a tricky color. Black tends to make rooms feel darker and smaller, which is not great during winter when everything is dark anyway. However, often individuals have found that darker, smaller spaces can make them feel more comfortable and safe.
Therefore, we would suggest, that if you want to use black you add these darker touches to areas in the home where you're trying to create comfort. For example, a reading nook or corner. That way black is not a large portion of the room and any negative emotional effects will be limited.
Tips for Promoting Color At Home
Add Patterns
If you're not one for blocks of colors or going all out, try using patterns instead. Used wisely, patterns can bring the benefits of color without overwhelming the eyes. If you're not sure how to add patterns, check out these throws, or even this comforter set: 
Featured Product: King Size Multi Color Paisley 4 Piece Bed Bag Comforter Set
Simple Upgrades
You don't have to do a complete remodel or get the paintbrush out if you don't want to. Choose cushions, lampshades or accessories containing the color of choice to brighten things up a bit. Or, alternatively, you could add colorful wall art to bring life to bare, dark walls.
These colors are simply a guide and you should always choose what's best for you and your mood! Check out our store to find items that can help you create a sanctuary at home and combat the winter blues!
You might also like: